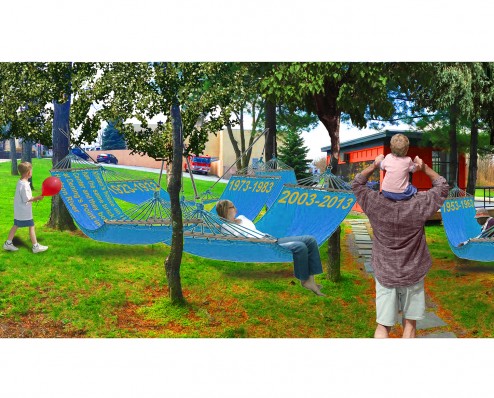 School of Jellyfish is accepting original poetry or prose submissions for its upcoming  "Good Things Happen Here" Public Space Initiative project, Swing by Beacon. Swing by Beacon will feature ten vibrant, pertinently designed hammocks strategically clustered and installed in Beacon's Peace Garden  (on the corner of Main Street and Route 9D) and each featuring one of ten selected written works.

Swing by Beacon: An Installation
The hammocks will be on display throughout the summer and fall of this year. The selected written works will be uniquely incorporated into each hammock's design. Works may be of any length, but only a maximum of 6 to 7 lines of each will be printed on the hammocks. The full text of each selected work will be displayed on plaques attached to each hammock. Works do not necessarily need to reflect the theme of the project.
Swing by Beacon, a simple and highly effective act, will animate an otherwise idle urban area, making it into a palpitating interactive public space. Through the written works and the conjuring of life in Beacon, participants will be awarded much more than just a place to sit, but also a way of life, creating a community by delineating aspirations and moreover, a sense of belonging.
All elements of Swing by Beacon, including the selected written works, will be documented in a small book for education and reference.
How to Submit a Work for Consideration:
Please send the following items:
Completed entry form (download here)
$10 application fee (payable via PayPal, or check made out to School of Jellyfish Public Projects with Swing by Beacon Poetry or Prose Submission on the memo line)
2 copies of your original written work (one with your name and the the other with no name or contact information, as it will be judged anonymously)
Submissions may be emailed to contact@schoolofjellyfish.org with Swing by Beacon Poetry or Prose Submission as the subject, or mailed to School of Jellyfish, 183 Main Street, Beacon, NY 12508.
Submissions must be received by Wednesday, May 15. Works will be reviewed anonymously by a jury, and submitters will be notified of their work's status by Wednesday, May 29.